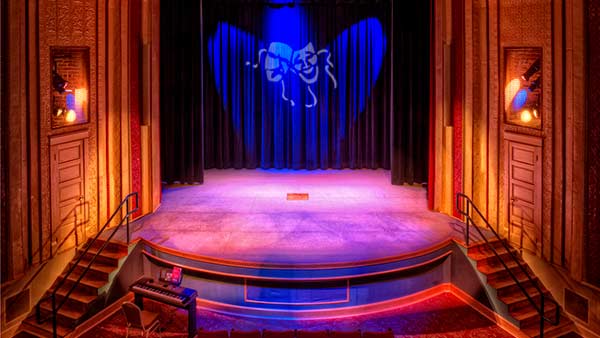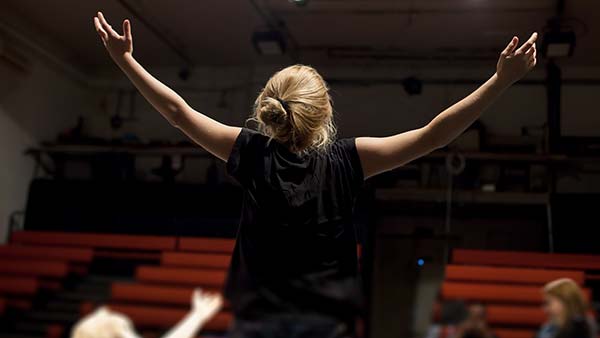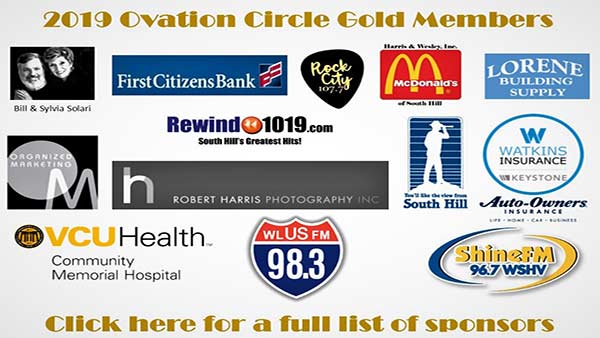 The Colonial Theater was originally constructed in 1925. It is now known as The Colonial Center for the Performing Arts. The building is three-stories tall and is located in Downtown South Hill, Mecklenburg County, Virginia.
The Colonial Center is listed on the Virginia Department of Historic Resources, Virginia Landmarks Register, and on the National Park Services National Register of Historic Places.
ANNOUNCEMENTS
Now in the Main Gallery:
New exhibit coming soon!
Now in the Craft Gallery:
NEW EXHIBIT COMING SOON
~~~~~~~~~~~~~~~~~~~~~~~~
Please Note: PROCESSING FEES APPLY TO ALL CREDIT CARD ORDERS PLACED THROUGH THIS WEBSITE, OVER THE PHONE, AND IN THE BOX OFFICE. TO AVOID THESE FEES, PLEASE VISIT THE BOX OFFICE BETWEEN 8:30 A.M. AND 4:30 P.M. MONDAY THROUGH FRIDAY, AND PURCHASE TICKETS WITH CASH OR CHECK.
Gift Certificates – Need a gift, incentive, or recognition award for someone you know? The Colonial Center now offers gift certificates starting at $15.00 each and increasing in amounts of $5.00 increments up to $50.00 total. There are no fees for this service. Ask a staff member today about how you can take advantage of this offer.
Tours and Visits – Please call ahead if you would like to see the theater area. We do not make that space accessible unless we have advance knowledge of the visit. It is our pleasure to show our space if we are prepared. As always, our box office and galleries are open Monday-Friday 8:30am to 4:30pm. Thank you for your understanding.
FILM FESTIVAL COMING SOON!
GET READY FOR THE FIRST ANNUAL COLONIAL CENTER FILM FESTIVAL! COMING SATURDAY, MAY 4, 2024! MORE DETAILS ARE AVAILABLE BELOW 
ALL MAKERS OF SHORT FILMS WILL BE ENCOURAGED TO SUBMIT – NO MATTER THEIR AGE OR EXPERIENCE LEVEL!
CLICK HERE TO PRINT A COPY OF THE INFORMATION BELOW
CLICK HERE TO PAY ENTRY FEES (This is for submission fees, not ticket sales for the event!)
CLICK HERE TO PRINT ENTRY FORM
LIGHTS…CAMERA…ACTION!!!
The Colonial Center Independent Short Film Festival 2024
The Colonial Center Independent Short Film Festival will be held on May 4, 2024, starting
at 10:00 a.m. This film festival is open to animated, documentaries, action, adventure,
horror, and drama films by independent filmmakers. Micro Short films (5 minutes and
under) and Short Films (up to 35 minutes)films will be accepted.
There are two age categories for filmmakers 18 years old and up and 17 years old and under. Eight(8)
awards presented for filmmakes18 years old and up for short films and micro short films.
The categories awarded are: Best Film, Best Director, Best Cinematography, Best Editing,
Best Special Effects, Jury Honorable Mention, Best Documentary and Audience Choice
Award. Seven(7) awards presented for filmmakers 17 years old and under there are
award categories are: Best Film, Best Director, Best Costumes, Best Make-up, Best
Documentary, Jury Honorable Mention and Audience Choice Award. Each submitter will
receive (2) passes to the festival. Registration will open September 1, 2023. Entry deadline
is March 1, 2024. For guidelines, rules, and fee information visit www.colonialcenterva.org.
The Colonial Theater is located at 220 South Mecklenburg Ave. South Hill, VA. Festival
tickets are $10.00 general admission and will be available for purchased March 1, 2024,
through the Colonial Center for Performing Arts website or by calling the box office at
(434)262-4170 Monday – Friday from 9:00 a.m. -4:00 p.m. For more information visit the
website or call the box office.
TERMS AND CONDITIONS
By submitting a project, the submitter ("Filmmaker") hereby irrevocably offers to The
Colonial Center Short Film Festival ("Festival") the right to screen the Film. The filmmaker
understands and agrees that once the festival accepts the Film , the Filmmaker shall have
no right to remove the Film from the Festival, but the Filmmaker shall not be barred from
submitting or screening the Film at any other Film Festival or event. If the festival selects
the Film for the Festival, the Festival shall have the irrevocable right, but not the obligation,
to screen the Film at the 2024 The Colonial Theater Film Festival, in Festival's sole
discretion. Filmmaker irrevocably grants the festival the right to use, for promotional
purposes, a trailer from the Film if the Film is selected for screening at the festival.
If the Film is revised or re-edited between the date of submission and the date of screening,
a copy of the revised film must be provided by the deadline of March 1, 2024, or the original
version will be screened and judged.
The Filmmaker shall indemnify and hold The Colonial Theater Film Festival harmless from
and against any and all claims, liabilities, losses, damages, and expenses (including but not
limited to attorney's fees and costs of the court) which may be incurred by reason of any
claim in connection with the Film involving copyright, trademark, credits, publicity,
screening, and/or loss of or damage to the screening videos submitted. In particular,
Filmmaker expressly warrants it has obtained all necessary copyright clearances for original
works of authorship used in the Film.
The Colonial Center Film Festival will not pay the Filmmaker compensation, for example
travel expense reimbursement, nor be liable to the Filmmaker under any circumstances.
GENERAL RULES
Each filmmaker is responsible for providing three(3) working copies(DVD's only) of the film
by the deadline of March 1, 2024. Failure to do so means the festival cannot include the film
in its lineup. Films are considered "Accepted" only after copies of the film are received and
successfully tested. Discs damaged during shipping, discs that are lost in the mail all are
examples of films that can miss the deadline. For these and other reasons, the festival
advises filmmakers to burn and test their own discs, securely package them inside boxes
and/or inside secure disc cases, then ship them well before the deadline via courier with a
tracking number.
The festival does not offer pre-selected invitations and/or any other form of preferential
treatment, including fee waivers, that Festival organizers consider out of step with our
mission of giving all filmmakers equal treatment during the judging process.
If due to a pandemic or any other reason the festival cannot proceed as initially planned in a
physical venue, the festival will be postponed, or rescheduled depending upon the situation.
Filmmakers will be updated on the Colonial Center website. Filmmakers submitting films are
accepting these terms in keeping with the realities and uncertainties that currently affect live
events. The festival nevertheless reserves the right, at its sole discretion, to postpone,
cancel or take online any event due to severe weather, power outage or any other
circumstance beyond the festival's control. In such rare circumstances, tickets will be
refunded. Submission fees are non-refundable for accepted films unless the entire festival
is cancelled and no Program Guide and other online forms of film announcements are
published, a highly unlikely set of circumstances.
By submitting a film, the Filmmaker agrees to and abides by the Festival Terms
as communicated to the submitter by the festival.
If the Film is accepted in the festival and is not removed from the festival for cause, the
Filmmaker shall have the right to promote the Film as an Official entrant of the Colonial
Center Short Film Festival. Any award granted to Filmmaker may be promoted unless
revoked by the festival for cause. Festival will not pay the Filmmaker any additional
compensation, for example travel expense reimbursement, nor be liable to Filmmaker under
any circumstances.
The Festival shall not be responsible for cancellation, postponement, change of format
(e.g., an online-only event), or any other failure in performance resulting from causes
beyond its reasonable control, including, but not limited to: acts of God, strikes or other
labor disturbances, equipment failures, power outages, delays in transportation, inability to
obtain resources needed to produce an event, war, acts of terrorism or other violence, riots,
epidemics, floods, fires, unusually severe weather conditions, accidents, life-threatening
illnesses, or other contingencies the non-occurrence of which was a basic assumption on
which the Filmmaker submitted a film.
Festival reserves the right to revoke selection of the Film for screening if Festival
determines, in its sole discretion, it has good cause to do so; examples of good cause as
used herein would include unprofessional or derogatory behavior by Filmmaker or
Filmmaker's representative(s). Even if Festival revokes selection of the Film for cause, the
terms of this Agreement shall remain binding and in force.
FEES
Fees are to be paid through the Colonial Theater website.
$25.00 for short films 35 minutes or less
$15.00 for micro short films 5 minutes or less
*Fees are to be paid in full at the time of registration in order for the film to be marked
accepted into the festival. Submitters will receive a confirmation email. After you register
and pay fees online please send your three(3)DVD's as soon as possible.
Please make sure email addresses, telephone numbers and address are correct. Please
make sure your submissions are cased and clearly labeled with your contact information
and age category. Please include the submission form with your three (3)DVD's. If you
would like your DVD's to be return send a self-addressed envelope with your submission.
If you have any questions please call the Colonial Center for Performing Arts (434) 262-
4170 Monday – Friday from 9:00 a.m. – 4:00 p.m.