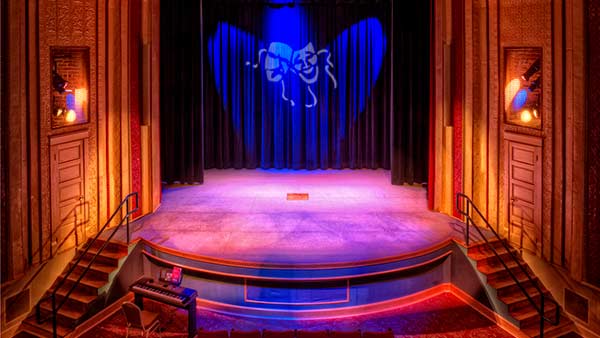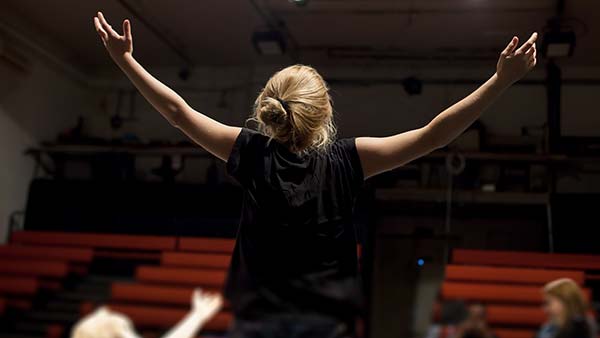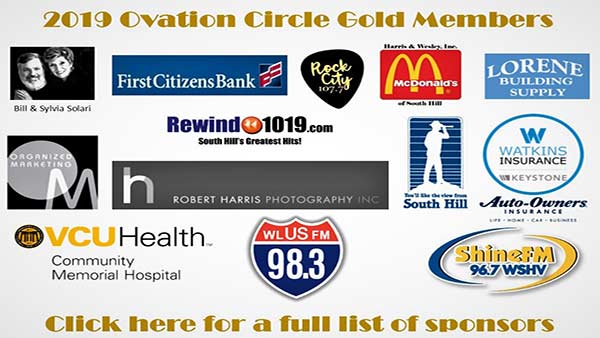 The Colonial Theater was originally constructed in 1925. It is now known as The Colonial Center for the Performing Arts. The building is three-stories tall and is located in Downtown South Hill, Mecklenburg County, Virginia.
The Colonial Center is listed on the Virginia Department of Historic Resources, Virginia Landmarks Register, and on the National Park Services National Register of Historic Places.
A Slideshow of Past Performances
ANNOUNCEMENTS
Our 2020 Season of performances has been announced! Click on "Upcoming Shows" above to see the line-up!
~~~~~~~~~~~~~~~~~~~~~~~~ 
DHR to Present Programs that Support
Historic Preservation and Recognition
of Southside Virginia's History and Historic Resources
 —Staff of the Virginia Department of Historic Resources will discuss programs and tools for preserving sites and buildings during the afternoon of Oct. 24 at the Colonial Center for the Performing Arts in Town of South Hill—
In October staff from the Virginia Department of Historic Resources (DHR) will offer presentations and the opportunity to speak with staff about programs available to residents, property owners, and localities to recognize and preserve historic buildings and sites in Southside Virginia.
 The event begins at 1 p.m., Thursday, October 24 at the Colonial Center for the Performing Arts, located at 220 South Mecklenburg Avenue in South Hill. Admission is free and open to the public.
The full event announcement may be found here: 
https://www.dhr.virginia.gov/press_releases/dhr-to-present-programs-that-support-historic-preservation-and-recognition-of-southside-va-s-history-and-historic-resources/
 For more information about the event, contact DHR's Randy Jones at randy.jones@dhr.virginia.gov or 540-578-3031 or Marc Wagner.
~~~~~~~~~~~~~~~~~~~~~~~~ 
AUDITIONS – The C.A.T.S. Community Theatre production of
A CHARLIE BROWN CHRISTMAS
Sunday, October 27 – 2:30 p.m. – 4:00 p.m.
Monday, October 28 – 6:00 p.m. – 7:30 p.m.
 Performance dates are: December 6, 7, 13 & 14 at 7:30 p.m .
Sunday, December 15, at 2:30 p.m.
PLEASE NOTE: The cast of A CHARLIE BROWN CHRISTMAS must also attend "School Day Matinee" performances on Thursday, December 5. These performances will take place during school hours at the Colonial Center. 
Please be sure you will be able to attend for all performances prior to auditioning.
More information is available under "Now In Production" above.
Rehearsals generally take place on Monday, Tuesday, and Thursday evenings, and on Sunday afternoons. 
 Audition forms may be found by clicking on "Auditions" above. Forms will also be available in the auditorium at audition times.
~~~~~~~~~~~~~~~~~~~~~~~
Please Note: PROCESSING FEES APPLY TO ALL CREDIT CARD ORDERS PLACED THROUGH THIS WEBSITE, OVER THE PHONE, AND IN THE BOX OFFICE. TO AVOID THESE FEES, PLEASE VISIT THE BOX OFFICE BETWEEN 8:30 A.M. AND 4:30 P.M. MONDAY THROUGH FRIDAY, AND PURCHASE TICKETS WITH CASH OR CHECK.
Gift Certificates – Need a gift, incentive, or recognition award for someone you know? The Colonial Center now offers gift certificates starting at $15.00 each and increasing in amounts of $5.00 increments up to $50.00 total. There are no fees for this service. Ask a staff member today about how you can take advantage of this offer.
Flex-Passes – Colonial Center Flex Passes are available for purchase! These passes entitle the recipient to six tickets to C.A.T.S. Community Theatre Events! Use them all at once or spread them throughout the year; it's your choice! Flex-Passes are $75 each and may be purchased on this site under the Events tab above. For questions, more information, or assistance in purchasing a Flex-Pass, please call the box office at 434-262-4170.
Tours and Visits – Please call ahead if you would like to see the theater area. We do not make that space accessible unless we have advance knowledge of the visit. It is our pleasure to show our space if we are prepared. As always, our box office and galleries are open Monday-Friday 8:30am to 4:30pm. Thank you for your understanding.