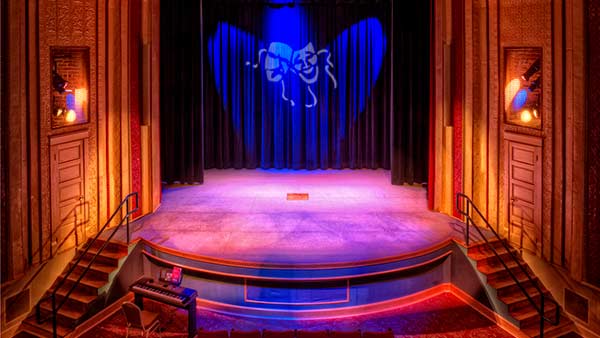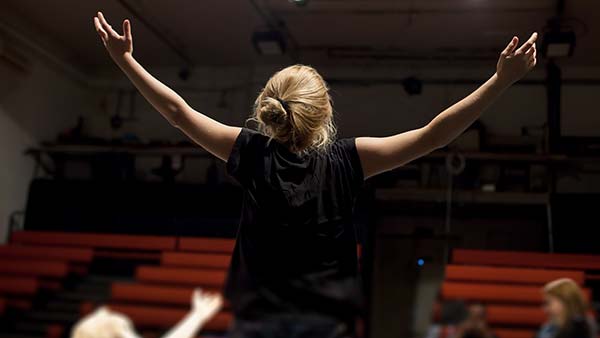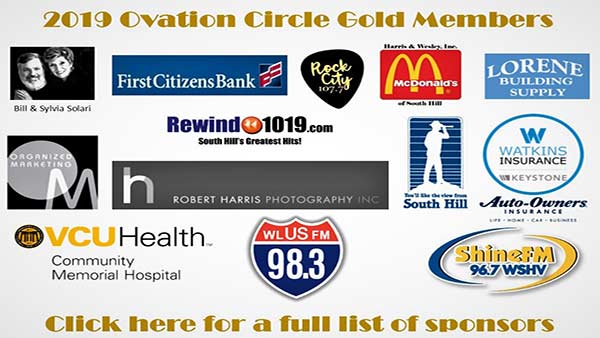 The Colonial Theater was originally constructed in 1925. It is now known as The Colonial Center for the Performing Arts. The building is three-stories tall and is located in Downtown South Hill, Mecklenburg County, Virginia.
The Colonial Center is listed on the Virginia Department of Historic Resources, Virginia Landmarks Register, and on the National Park Services National Register of Historic Places.
ANNOUNCEMENTS  
Remaining 2022 FREE Workshops!
Prior registration is required.
Call (434) 262-4170 for more information or to register.
All workshops and materials are provided free-of-charge and are made possible, in part, through funding provided by the Virginia Commission for the Arts and the National Endowment for the Arts. Additional performing arts workshops will be added as time progresses. Listed below are our remaining 2022 workshops.  
Naïve Painting with Karen Terry (Ages 18+) Thursday, September 22, 6 p.m. – 8 p.m.
Mixed Media Art with Karen Terry (Ages 18+) Thursday, October 20, 6 p.m. – 8 p.m.
 Creating with Paper with Karen Terry (Ages 18+) Thursday, November 10, 6 p.m. – 8 p.m.
~~~~~~~~~~~~~~~~~~~~~~~~
Now in the Main Gallery:
"Lady Slipper Pour-Art" by Ron Roth 
ABOUT Ron Roth:
"If coloring was a favorite activity in your youth, then it's easy to grasp the fascination with pouring exquisitely colorful paints on canvas; and you don't even need to within the lines!
Lady Slipper Pour-Art is permeated with this exhilaration: fashion beauty from imagination, yet tether to the colors of gardens, nature, water, and indeed, the cosmos.
After years of research, database creation, management, and marketing, I was drawn to the splendor of the interaction of colors to portray the world in which we live. I now experience it daily in the creations of Lady Slipper Pour-Art. I hope you can share in this vision."
Click on "Art Gallery" under "Events" at the top of this page for photos of the current Gallery exhibits. 
Now in the Craft Gallery:
NEW EXHIBIT COMING SOON
~~~~~~~~~~~~~~~~~~~~~~~~
Please Note: PROCESSING FEES APPLY TO ALL CREDIT CARD ORDERS PLACED THROUGH THIS WEBSITE, OVER THE PHONE, AND IN THE BOX OFFICE. TO AVOID THESE FEES, PLEASE VISIT THE BOX OFFICE BETWEEN 8:30 A.M. AND 4:30 P.M. MONDAY THROUGH FRIDAY, AND PURCHASE TICKETS WITH CASH OR CHECK.
Gift Certificates – Need a gift, incentive, or recognition award for someone you know? The Colonial Center now offers gift certificates starting at $15.00 each and increasing in amounts of $5.00 increments up to $50.00 total. There are no fees for this service. Ask a staff member today about how you can take advantage of this offer.
Flex-Passes – Colonial Center Flex Passes are available for purchase! These passes entitle the recipient to six tickets to C.A.T.S. Community Theatre Events! Use them all at once or spread them throughout the year; it's your choice! Flex-Passes are $75 each and may be purchased on this site under the Events tab above. For questions, more information, or assistance in purchasing a Flex-Pass, please call the box office at 434-262-4170.
Tours and Visits – Please call ahead if you would like to see the theater area. We do not make that space accessible unless we have advance knowledge of the visit. It is our pleasure to show our space if we are prepared. As always, our box office and galleries are open Monday-Friday 8:30am to 4:30pm. Thank you for your understanding.