Now in the Main Gallery - Paintings by Deborah Younglao with Poetry by Karen Louise Wilson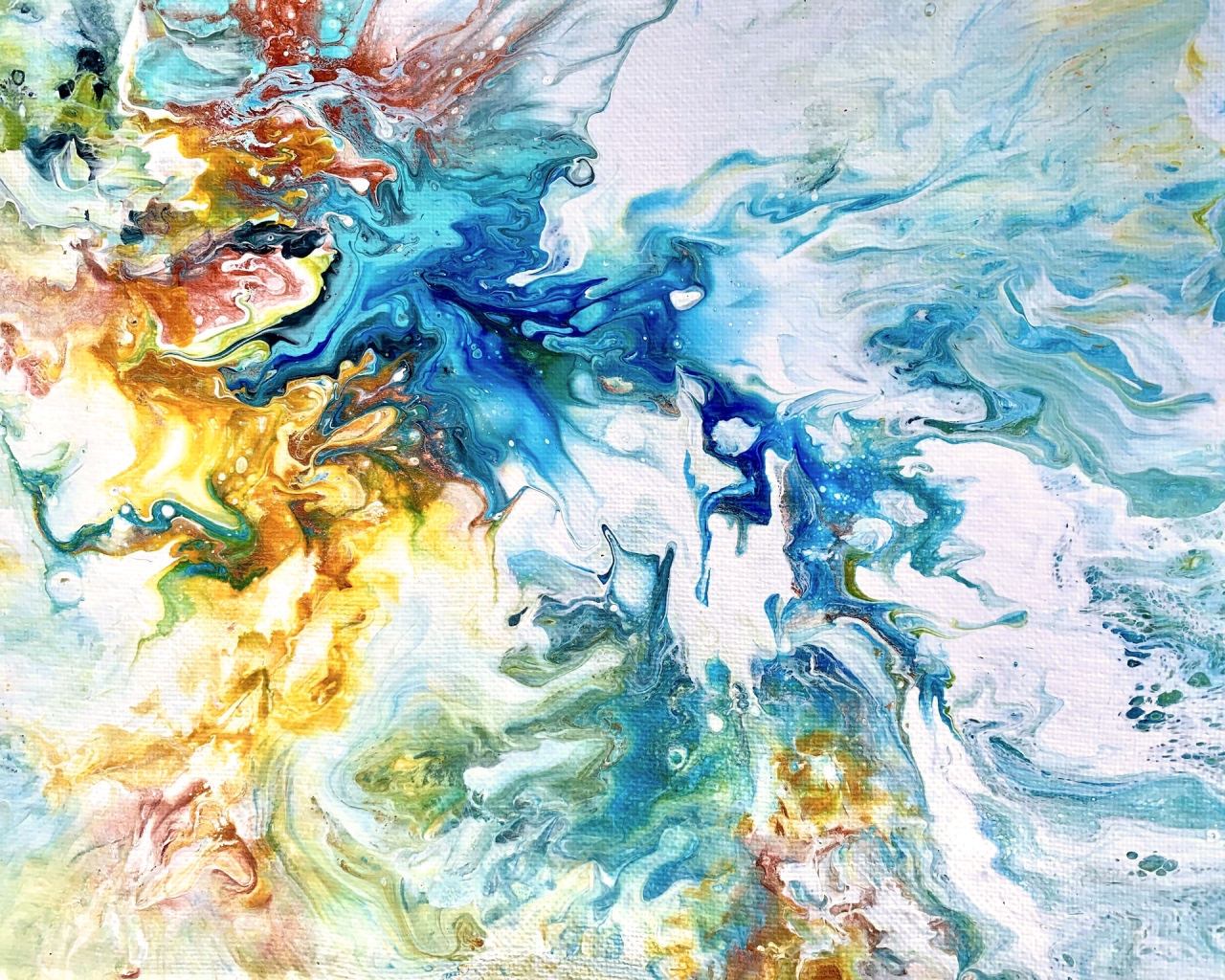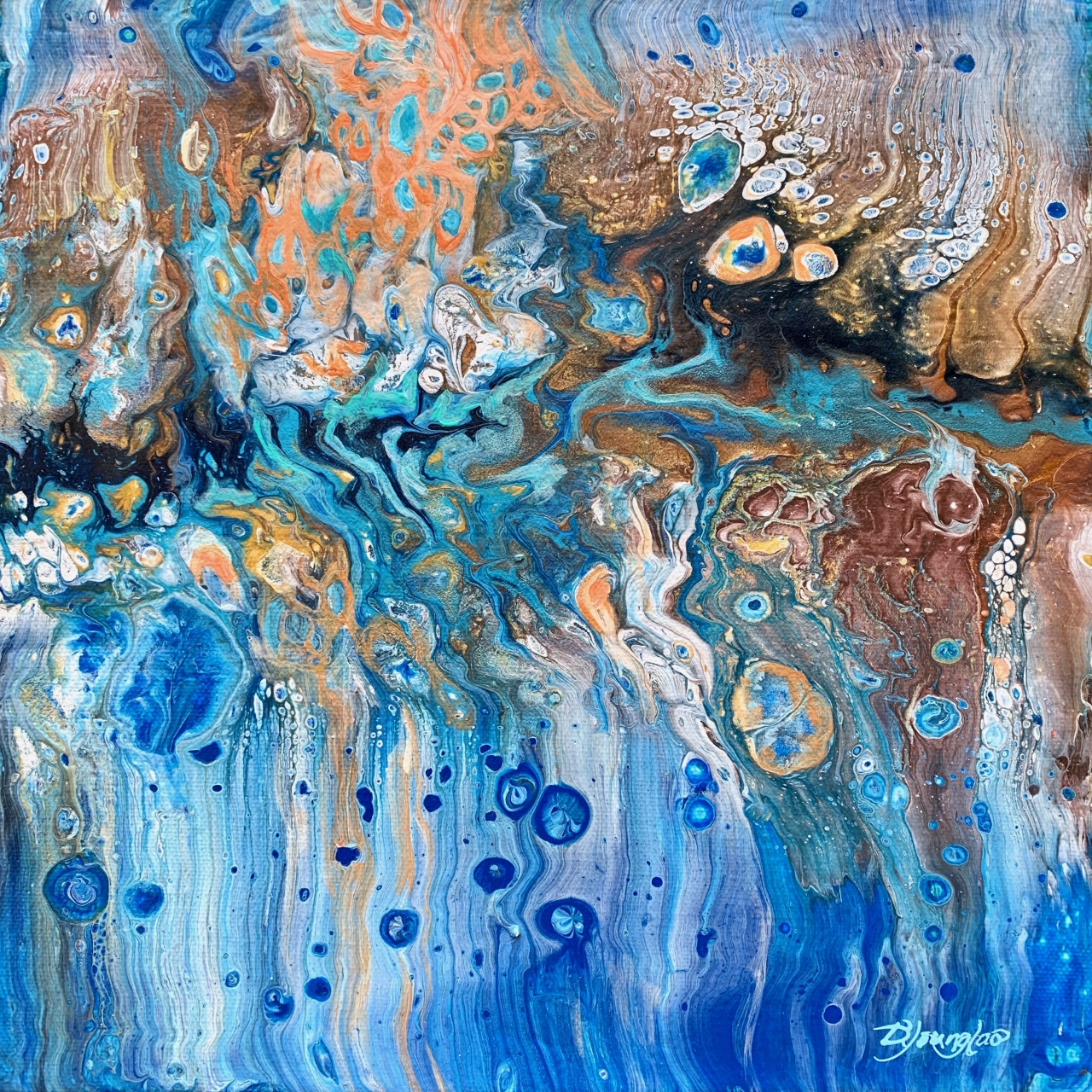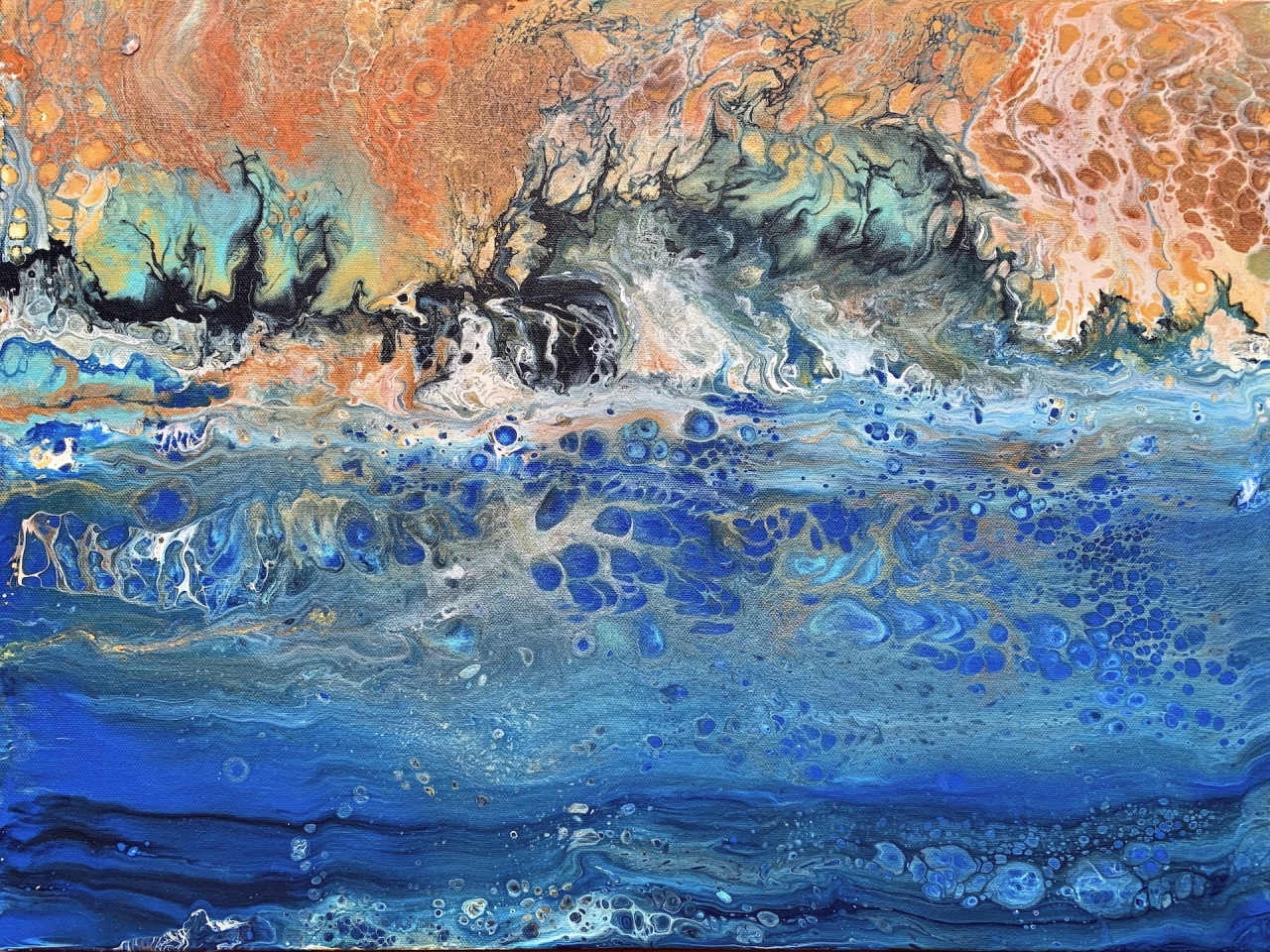 Meditative. Dreamy. Mesmerizing. These are some of the words that collectors use to describe Deborah Younglao's abstract paintings. Inspired by her love of nature, cryptic patterns and forms in her paintings wait to be discovered. They invite you into a tranquil space where you are free to lose yourself in the stories you find in them. 
Although her formal education was in Science (she holds an MS in Marine Biology from McGill University), Deborah's creative side led her to realize that her fascination with nature was aesthetic rather than strictly scientific. 
As an artist, Deborah is mostly self-taught, and has worked in several media. An accomplished silk painter for many years, she has achieved Master Silk Painter status from Silk Painters International.  She has transitioned from a representational artist into an intuitive abstract expressionist, preferring to paint from the heart. Her paints of choice are fluid acrylics, and she loves watching colors, shapes and lines come to life on her canvas. The scientist in her is forever experimenting with new techniques and materials… fearlessly answering the question, "What would happen if…?" 
Recently, Deborah has partnered with New Zealand writer and poet Karen Louise Wilson. Karen is an intuitive/inspirational writer. Karen meditates on Deborah's paintings and gives inspired poetic imagery to the emotions expressed by Deborah in her paintings. 
Deborah and Karen met on a Zoom call for an online course that they were both taking.  Karen fell in love with Deborah's paintings, which were visible in the video. She spontaneously wrote a poem about one of the pieces and sent it to Deborah, who in turn fell in love with Karen's poetry.  And thus began the partnership. 
In addition to her native Caribbean island of Trinidad, Deborah has lived in Barbados, Ireland, Canada and 4 states in the US, including her current home of Cary, NC. Her work can be found in private collections across the US and Caribbean. 
Deborah says, "I have always been fascinated by the movement of colors across a surface, forming new colors and shapes as they go. For the most part, I have no plan in mind for the outcome of the painting, other than the colors that inspire me in that moment. The vibrant colors of my native Caribbean – especially the ocean – and images of the wild lushness of tropical vegetation, float before me as I paint." 
"I love that creating with fluid paints is such an interactive process – it's a dance between the artist and the paint, as I tilt the canvas and make the colors spread. We often change who's in the lead! I'm excited by the developing spontaneous organic textures and shapes that take on a life of their own. Fingers, palette knives, other tools, and air blown onto the wet paint help me nudge the painting in the direction I want it to go, but I have to be open to letting the painting speak for itself. While the first layer is still wet, I repeat this process several times, to create a multilayered painting that reveals glimpses of each layer. When all is dry, I further develop the painting with brushes and paint markers."
"The unpredictability of my process requires my naturally over-analytical mind to take a break and literally go with the flow – which I find very freeing. The painting process is a meditation for me – I completely lose all sense of time and self. Even though I imbue my own thoughts and feelings into each painting, my intention is to take my viewers on their own inner journey, as their imagination and emotion fills in the details of the story." 
NOW IN THE CRAFT GALLERY
Handmade Jewelry by Dorothy Hawthorne of Dot's Creations in Chase City, VA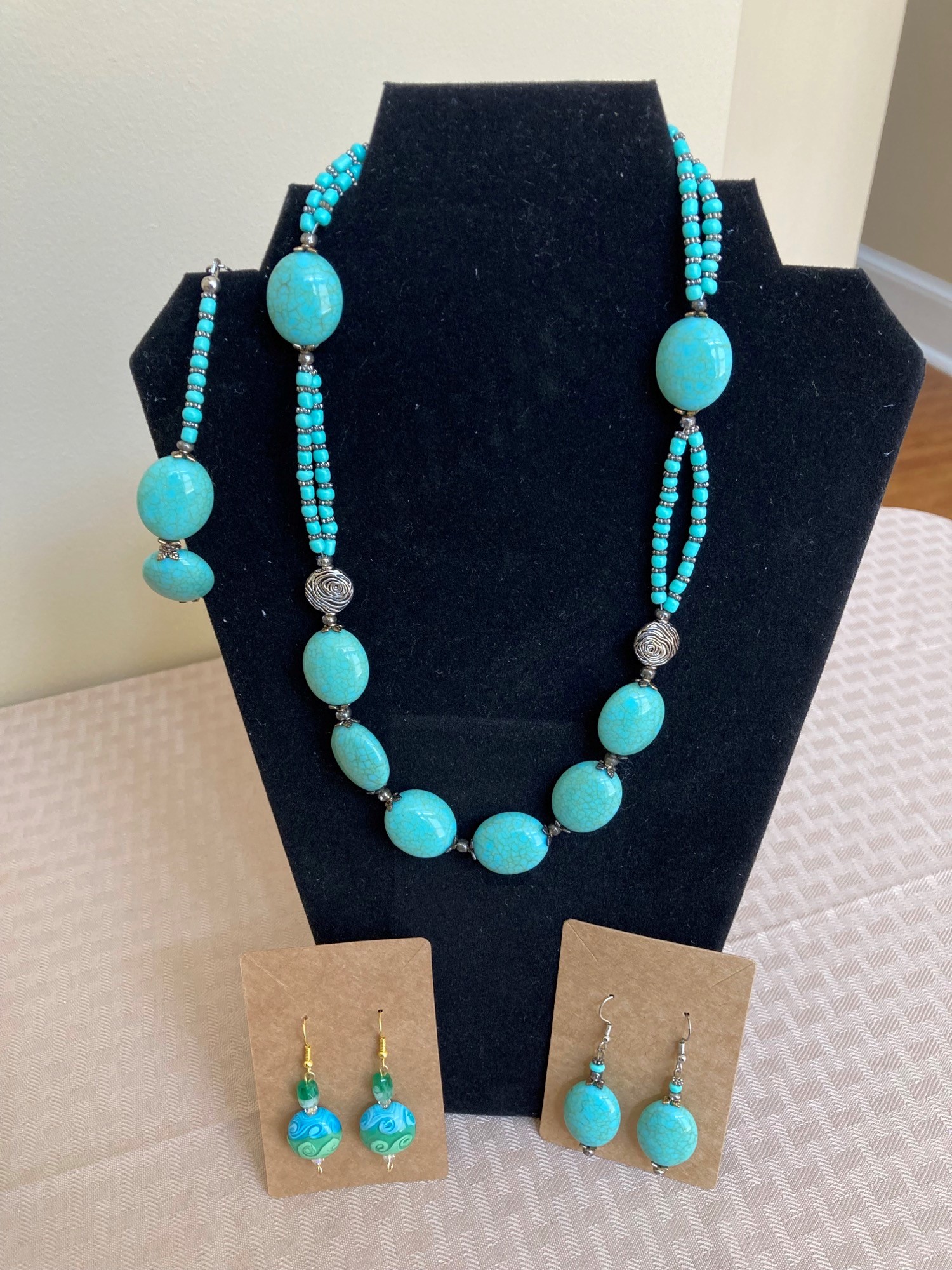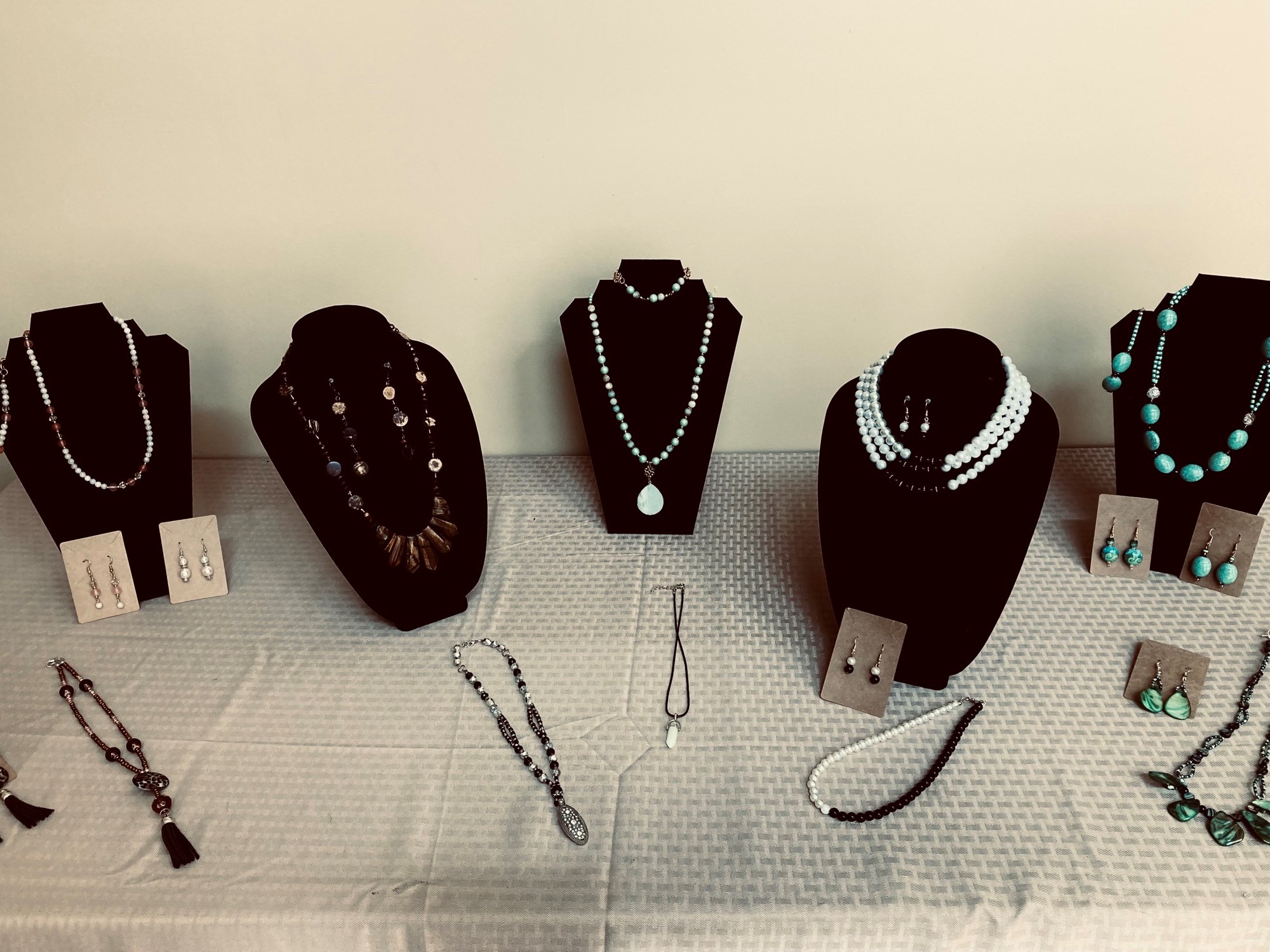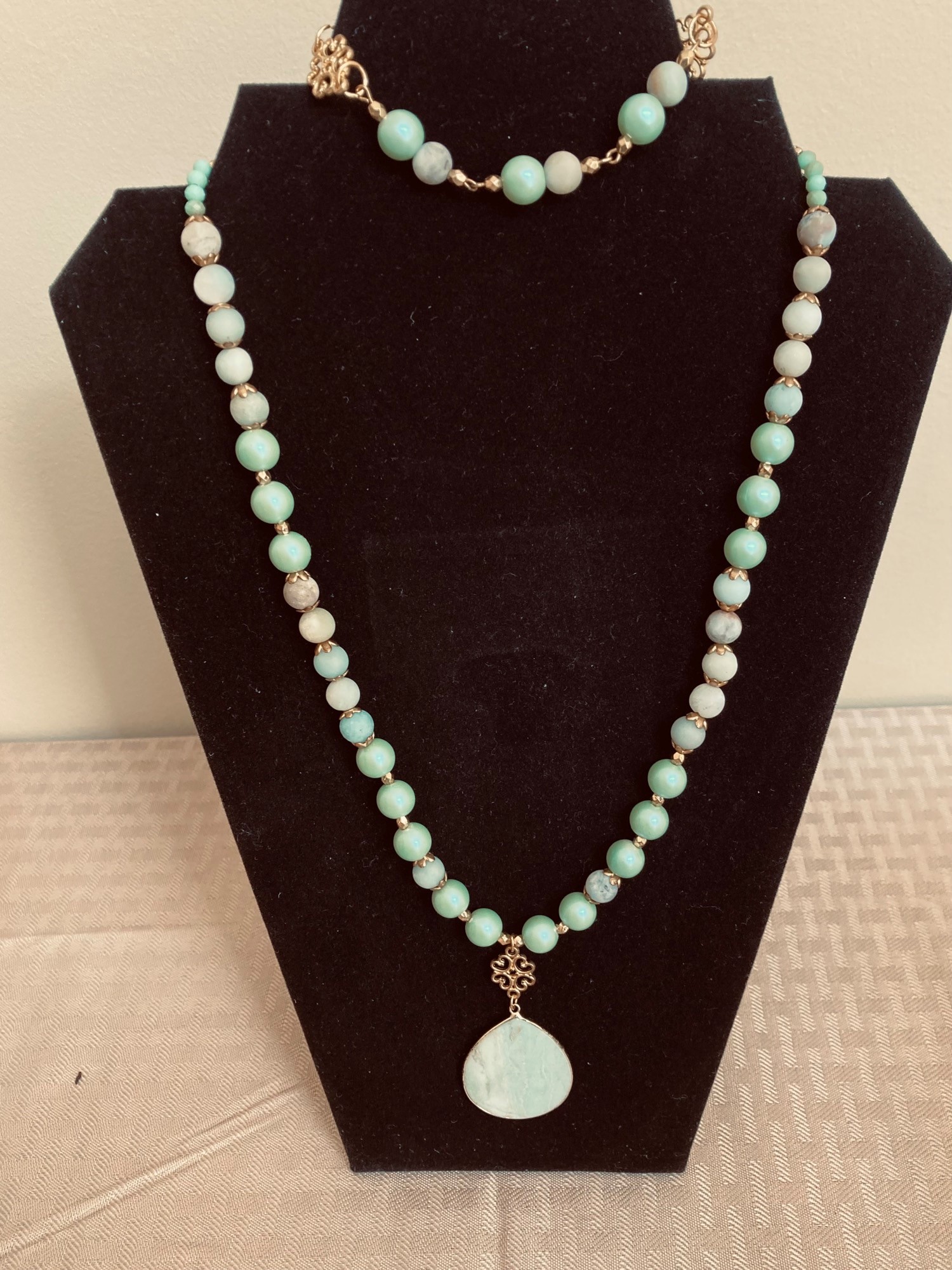 Dorothy Crawley was born and raised in Chase City, VA. She is the founder of Dot's Creations, LLC and started making simple jewelry pieces more than 20 years ago. She also takes specialized orders for intricate pieces for all occasions. Contact her at dotscreations47@gmail.com for special order pieces for your wedding, graduation, prom, or any other special event.
These installations will remain in place until August 11.
The Colonial Center has several gallery spaces available for exhibitions and display. All artwork is shown either on easels, free standing pedestals, or hanging systems. Applications are currently being accepted for future showings. 
Complete the Application Form and send it to The Colonial Center at the following address. You may also send by email. Please call for more details. 
The Colonial Center
Attn: Karen Terry
220 South Mecklenburg Avenue
South Hill, Virginia 23970
(434) 262-4170
kdmosley1@hotmail.com 
The Art Galleries are open for free public viewing from 8:30 a.m. until 4:30 p.m. Monday through Friday, and during all Colonial Center public performance events.
Address
The Colonial Center
220 South Mecklenburg Avenue
South Hill, Virginia 23970
(434) 262-4170