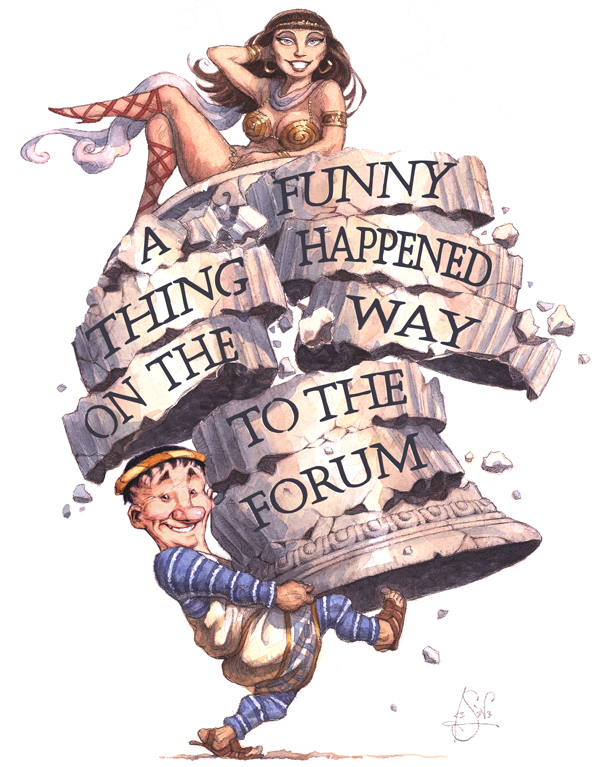 AUDITION DATES –
Sunday, January 5, 2020 – 2:30 p.m.
Monday, January 6, 2020 – 6:00 p.m.
Performance dates:
March 7, 13 & 14 at 7:30 p.m.
March 8 & 15 at 2:30 p.m.
Casting for ages 16 – 80.
Please be sure you are available for all performances and necessary rehearsals prior to auditioning.
Rehearsals are on Monday, Tuesday & Thursday evenings, and on Sunday afternoons.
Most characters will not need to be at every rehearsal.
Be prepared to sing a song of your choice at auditions.
Please use the Actors Entrance at the rear of the theatre upon arrival.
If this is your first C.A.T.S. audition, please bring a snapshot of yourself to give to the Director. 
Questions about auditions? Call Douglas Wright at (434) 262-4170 or email him at colonialfan@gmail.com.
CHARACTERS:
Prologus/Pseudolus (Lead): Male, 25-50. An actor who introduces the play, Prologus then changes into the character he plays throughout: Pseudolus, who is a Roman slave, owned by Hero, who seeks to win his freedom by helping his young master win the heart of Philia. Quick-witted, scheming, childlike spirit.
Senex (Supporting): Male, 45-70. An older man, still attracted to wine, women, and song, Senex is the perennially henpecked husband.
Domina (Supporting): Female, 40-60. The battle-ax wife of Senex is not only over-bearing and domineering, but proud. 
Hero (Lead): Male, 18-30. The young son of Senex and Domina. He falls in love with Philia and agrees to give Pseudolus his freedom if he can help Hero woo her. Practical, privileged, romantic.
 Hysterium (Supporting): Male, 30-55. A slave of Senex and Domina, Hysterium is the frantic and frenetic straw boss of all the slaves in the household. Anxious, conservative, loyal. He desperately wants everything to be in order.
Lycus (Supporting): All Genders, 40-60. The owner of the house of Courtesans. Always out to make a profit, but also wants to make good on what the business offers.
Philia (Lead): Female, 18-25. A virgin in the House of Lycus. She is promised to Miles and vows to give him bodily what he has paid for, but loves Hero and promises he will always have her heart. Young, pretty, devoted. An archetypal ingénue.
Miles Gloriosus (Supporting): Male, 25-40. The archetype of the braggart soldier. A captain in the Roman army to whom Lycus has promised Philia. Commanding, boastful, manly and strong.
Erronius (Supporting): All Genders, 50-80.  A befuddled old man/woman who is partially blind and always confused, Erronius spends most of the play bemoaning his/her two children who were kidnapped by pirates years ago.
 Tintinabula: One of Lycus's courtesans, Tintinabula has "the face of an idol . . . the arms of a willow tree . . . and the pelvis of a camel."
 Panacea: Another of Lycus's courtesans, Panacea has "a face that holds a thousand promises, and a body that stands behind each promise."
 The Geminae: Female, Male, or One of Each, 18-30. Twin courtesans, the Geminae are, according to Lycus: "A matched pair. Either one a divinely assembled woman, together an infinite number of mathematical possibilities."
 Vibrata: Another of Lycus's courtesans, Vibrata is "exotic as a desert bloom . . . wondrous as a flamingo . . . lithe as a tiger . . . for the man or woman whose interest is wildlife."
Gymnasia: Female, 16-30. (Ensemble Singing only) Another of Lycus's courtesans, Gymnasia is "a giant stage on which a thousand dramas can be played."
Proteans: All Genders, 16-30 (Ensemble Singing only) Actors of immense physical comedy and versatility.  
Important Forms & Documents
Put forth your best effort in whatever you attempt. You are positive representatives of C.A.T.S., The Colonial Center, your families, and community. In terms of performance this means demonstrating the following characteristics:
Directability: The willingness to be directed, try new assignments, trust Director's decisions, and follow the rule. Exemplify an attitude that says, "I will do whatever it takes to be successful and grow as an artist."
Passion: A love of the arts and a desire to honor others with your talents and abilities. Put your heart and soul into what you do, knowing that it will be recognized.
Integrity: Interact with others in honesty. Follow through on your word and do what is best for the group.
Humility: Judge yourself wisely. You are no better than anyone else. Accept that we all have strengths and weaknesses. The Colonial Center believes in fostering and encouraging the development of theatre and performing arts in Southside Virginia and the surrounding regions.